The drink will stir itself - Luna in The USA and the UK (2: Boston)
in categories:
I had a burger and a strawberry milkshake at seven in the morning at the Baltimore airport. Ulrika was staring at me, shaking her head, like so often. What's wrong, I was thinking. I'm on vacation. On tour, kind of. Seeing the best band on earth. Luna will play in Boston. I will be there. My nerves are exploding. A strawberry milkshake is just what I need.
Some hotel rooms are a revelation. Beautiful. When you open the door, it feels like you're stepping into a big white fluffy cloud. In Boston, the room wasn't like that. At all.
The lady behind the desk, or even inside the hole, opened the key locker that looked like some old prop from the TV show M*A*S*H. She was looking. But the key was gone. She started to search for it. Under some papers, under other keys laying around, she searched everywhere. Couldn't find it.
We got another room. The room was even worse. Interior from the same TV show, broken blinds, sterile lights, mysterious bed, no private bathroom. Ulrika wanted to go somewhere else, find another hotel, but all other places had rooms for not less than $250.
We stayed and dropped off our valuables in Mike's room. He's always staying close to the venue. This time it meant a really fancy hotel. They had ice cold watermelon water for free in the lobby.
Kelly is a dreamy being. Sometimes I don't know if she really exists. I keep writing weird text messages to her, and she almost always replies. And she writes nice things back. We have met before, in Texas, and we got to know each other a little bit.
We arranged to meet in the lobby of Mike's hotel after I dropped my things off in his room. It was just the two of us. A beautiful couple had just got married, the bride was looking like a star, all dressed up, in a fancy dress, she even got me a little excited. The groom not so much.
And there she was. Kelly, she is shorter than me, her eyes are friendly and she pays a lot of attention, when she is not dreaming. There we were, in the lobby of a nice hotel, we didn't exactly fit in. I don't know how to behave when I meet someone. I don't know what to talk about, if it's not music, or sports, or food. But wait a second, there's free water from a bowl in the corner. Is it cucumber, no, it's watermelon. The two of us, drinking watermelon water in a Boston hotel lobby.
Kelly speaks in an interesting way and I can't follow her all the time, but from the confusing look in her eyes I mostly see what she means. Because we are on the same level, even though she is shorter. We were drinking watermelon water. It was free and all.
There's free water from a bowl in the corner. Is it cucumber? No, it's watermelon. The two of us, drinking watermelon water in a Boston hotel lobby.
Kelly took us on a guided tour of Boston. Following the Freedom Trail, a path through the city that passes locations significant to the history of the United States. There was the site where the Boston Massacre took place 1770. The British had raised the taxes and during an uproar a British soldier fired his gun into a group of people. Five got killed and several injured. That was one of the triggers behind the revolution, when the 13 colonies on the east coast liberated from the British and the United States were born. I got into a souvenir shop and bought a plastic crab pen for my father. I hope I will have the chance to give it to him soon. He is a crab and lobster hobby fisherman on the Swedish west coast. He's getting older.
Me and Kelly had several months before the trip been sending text messages to each other about eating lobster roll in Boston and she found a small place with delicious food. A lobster roll is lobster meat put in a freshly baked hot dog bun. Mike had clam chowder, he always eats it when he's in Boston. He dislikes all other clam chowders, because he doesn't want tomatoes in it. Me and Ulrika had the Maine lobster roll version, with mayonnaise, but also tried the Connecticut lobster roll with melted butter instead. I had to try the famous clam chowder too, I did not regret it.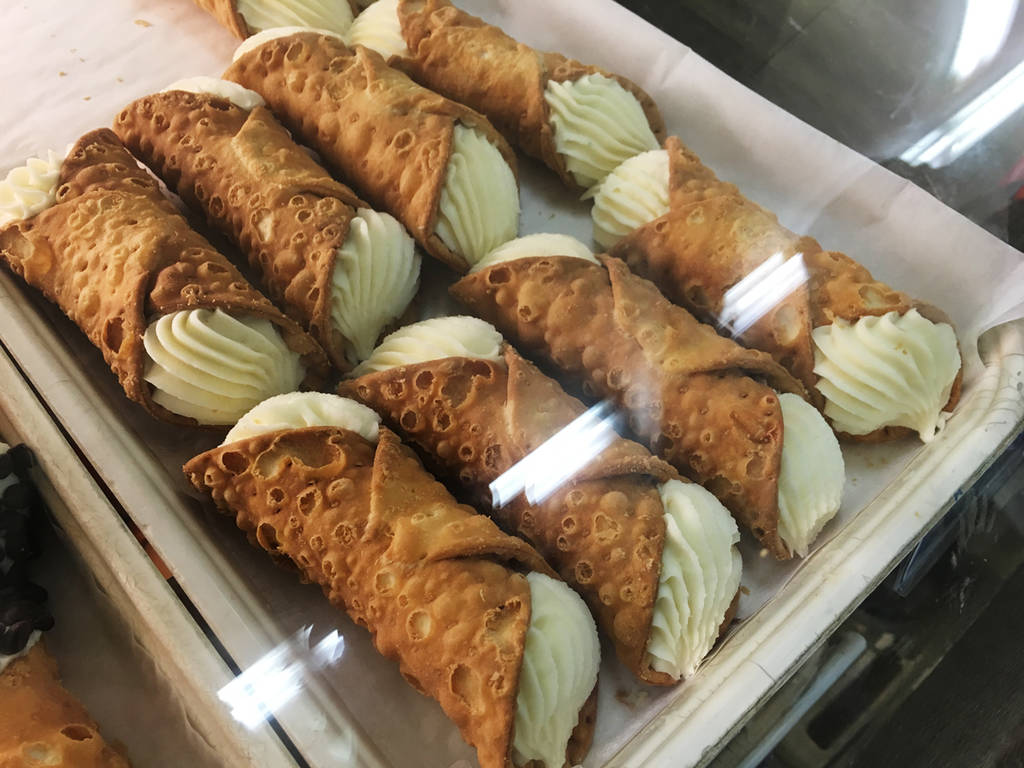 We went into a bakery, I bought a cannoli, the Sicilian pastry that is really big in Boston. "Leave the gun, take the cannoli" is a quote from the Godfather. I had just the regular one. A tube of fried dough with sweetened vanilla flavoured ricotta cheese inside. Kelly got the pistachio and the chocolate dipped cannoli. It was a cold afternoon, windy, and we hurried back to the venue, it was going to be an early Luna show that night.
We followed Kelly backstage where she had planned to meet Sean. We got inside through a door on the rear of the building. Because the security guard in the front wouldn't let us in. I wonder why. Well, the back door was open so we got in. There was a big container with hotel laundry. Sheets and stuff. Sean showed up and showed us around.
We were watching the band set up their equipment and Dean was nice and handed us backstage passes. Mike could set up his equipment on the balcony. He was happy like a child. Ulrika asked Dean about his tweet a few days earlier, a tweet that wasn't supposed to be public. About a record he is about to release, a record of cowboy songs. I look forward to hearing it.
Ulrika is a bit paranoid about not getting a good spot, so we left to stand in line outside. Way too early. But she prefers it that way. Me, Mike and Kelly went to a nice bar with comfortable couches.
Not much happens at the start of the show, California and Speedbumps aren't exactly helping the bartenders to shake the margaritas. But in Lost in Space Dean's sweet, vulnerable voice is very touching. He has a cold I think and his voice sounds vulnerable because of that, otherwise his voice is not really vulnerable. I would avoid writing it normally. But it's fine now I guess. That kind of day. "It's true. You're lazy. You're tired. And crazy." Sean is bending the strings in this beautiful song from Penthouse.
There are long pauses between the songs, sometimes it even feels like everything is falling apart.
The venue called Royale is really spectacular. It's a big room with a balcony and decorations in gold. The floor in front of the stage is raised one step. Then Britta starts to sing One Fine Summer Morning from her record. That long intro is really perfect, setting the mood. And her voice cuts through, right into your bones. And I love it when Lee is getting started a few minutes into the song, taking everything to a new level, it's quite slow but still upbeat, it's hard to not move around to it. The song gets much appreciation from the crowd but it's still pretty laid back even though it's a Friday night.
Lovedust again, to our great pleasure. Sean's distorted chords match perfectly with Dean's melody lines. Then they take turns playing melody lines. Lee's cymbals crash and thunder, it's a great song.
"It's nice to be here, in Boston", Dean says after the applause fades. "It's expensive here though, we couldn't afford to get a hotel here, we had to go to Framingham."
"What kind of a town name is that anyway", Sean says.
"It's like Ware-Ham", Dean continues.
People starts to laugh to this non joke but it's making the atmosphere loosen up a bit. It's what Luna is so good at, even a medium good show with medium funny jokes is entertaining and always worth seeing no matter what. The drink will stir itself.
It's a good sounding show. Sideshow by the Seashore is a place in Coney Island, next to Luna Park. Sideshows are originally a secondary circus attraction, like freak shows, strange objects on display like Bonnie and Clyde's death car. There's hoochie-coochie strip shows and things like that. The place still exists. "The girls are dressed as mermaids." I might go there someday.
There are long pauses between the songs, sometimes it even feels like everything is falling apart. But watching Luna is always amusing, and we are in the front like always.
They play Kalamazoo. It's a brilliant song musically. Moody, with layers of sound, great intensity, from slow to fast, that's what they are so good at. Friendly Advice is a pure joy, it's just a big smile, the solos are crazy and wonderful. After the encore break, there's a massive echo and reverb on Dean's voice, on Anesthesia and Blue Thunder. It's fitting. It's a diffuse concert, occasionally brilliant. But diffuse, that's how I would describe it. And medium funny, not to forget.
We go backstage, into the bands small room with two small sofas opposite to each other, and a table, not much else is in there. A few people, Rafael from Rhode Island, he is very nice, and some others that I never got to know. Not good at conversation anyway, I'm more of an observer.
Britta's high quality chocolate she always wants is there, a big bottle of vodka is there too, nuts and almonds, some beers on the table. It's embarrassing at first to be there, like always, but fun. I don't want to just grab anything that's actually the band's. But I eat the almonds. After a while Dean says with his sweeping gestures, "you are so polite, have a beer". Kelly offers the band cannoli.
There are discussions about some guitar player, or how some guitarists pose when they play. I can't remember, I probably didn't even hear the whole story. Dean writes a lot about it in his book. How much he dislikes it. I think he is doing it himself a little bit, in his own, sophisticated way. It's very nice. Suddenly he jumps forward and starts to play air guitar right in front of Ulrika sitting in the sofa. She is a bit embarrassed, but it is fun. Everyone laughs. I wish I had it on video.
Finally I had the chance to talk to Britta about Wrap Your Arms Around Me. The song from her album, that she performed just magically the day before. After the Texas concerts this spring, I told Britta that I would send her the correct transcription of what Agneta Fältskog is saying in Swedish in the song. But I never got around to send it even though I have it, I even made it easier to pronounce, changing some spelling.
Suddenly he jumps forward and starts to play air guitar right in front of Ulrika sitting in the sofa.
It's actually not even for me that easy to hear what she is saying in the original song and I wanted to be entirely sure. And besides, I really like how Britta is fake talking Swedish. Sometimes words with no meaning express a lot more than real words. I told Britta that I love her way of doing it. That was what brought me to tears in Alexandria. And I probably got a bit patriotic, loving how she tried to speak Swedish. I really like it the way it is. It's like Elizabeth Fraser of Cocteau Twins. Fraser's gibberish is immensely touching, poetic beyond words. There's no risk of corny words either. It's just emotions. There's nothing corny about how you actually feel, because that's real. So I never sent the transcription to Britta. But here it is, translated to English.
Take me in your arms
Hold me
You are everything
Only you
I want to be with you
We belong together
We are so close
The nights are so cold
I miss you so
I want to be with you
Hold me
Love me
Love me
Agnetha Fältskog made her record debut with a solo single 1967, a teenager then, precocious, a dramatic orchestrated Lee Hazlewood type of production. She sang in several bands before she became a member of Abba 1972. She divorced Björn Ulvaeus when Abba split up, The Winner Takes It All is one of their best.
One of the most bizarre stories about her is that she was stalked by a dutch man, Gert van der Graaf. He fell in love with her as a kid, who wouldn't, she was and still is stunningly beautiful. Gert even moved to Stockholm just to get closer to Agneta. But that's not the end of the story. No. He courted her, and finally, he succeeded. In 1997 they became a couple. But Agneta broke up with him a little later, but he was still in love, and they got together again. They broke up again, he kept stalking her, eventually she called the police and he was deported. But he returned. There's a documentary on Youtube about it. It's a crazy man. I don't think Wrap Your Arms Around Me is about him. By the way, there's a song on her latest record called I Was A Flower. I wish she had sung it in gibberish.
There was going to be a night club in the venue after Luna's show so we got more or less kicked out from the backstage room. Greg was at the show too, we met him in Barcelona last year, and in New York too. He is spectacular. One of a kind. Frizzy hair, very social, for us unusually talkative, almost suspiciously friendly, but of course he is just being himself. And he is a doctor. One of many doctors among Luna fans.
Greg, Kelly and Ulrika went ahead while me and Mike unloaded recording gear in his room. We were going to the same place as the others but we weren't allowed in because Mike was wearing the wrong clothes. It looked like a pretty stupid place anyway, so we kept going and found a decent bar, we ordered food, chatted for an hour until the others joined us a little later.
We stayed several hours, talking about everything, Greg tried to convince Kelly to come to New York the day after, like the rest of us, and Ulrika even had a serious long conversation with Greg about her ill father, and she felt much better afterwards. Greg is very direct, telling it like it is. Sometimes that's the best. I talked to Kelly about Sean's two songs on Rendezvous. Dean wrote about Broken Chair in his book, it's a funny story. Years ago, Sean and a girlfriend at the time bought two expensive chairs, but one of them broke. And when they split up, Sean got the broken one. The broken chair.
It had been a long day that started with a milkshake many, many hours ago. We had to get back to our bad room. We didn't even care about it any more. We fell asleep right away. Dreaming about what was coming up next. New York, Chinatown, Brooklyn. Slept like babies. Dreaming about mermaids.
Photos
Photos by Frank Silvestry and Joakim Bengtsson