Electronic snicker snack - Luna in the UK, part one: Brighton
in categories:
I first met Joakim when he and Ulrika where in London for a Damon & Naomi gig a few years back, and again at the recent Luna shows in the UK. It was a pleasure. When he was back in Sweden he emailed me and mentioned that he'd written up their UK trip and wondered if I'd like to post it to AHFoW. I was overjoyed at the prospect of publishing someone else's words on the site - below is the first of four lovely missives about being a Luna fan following the band around the UK.
Andy - AHFoW
It's that moment when you know it's all worth it.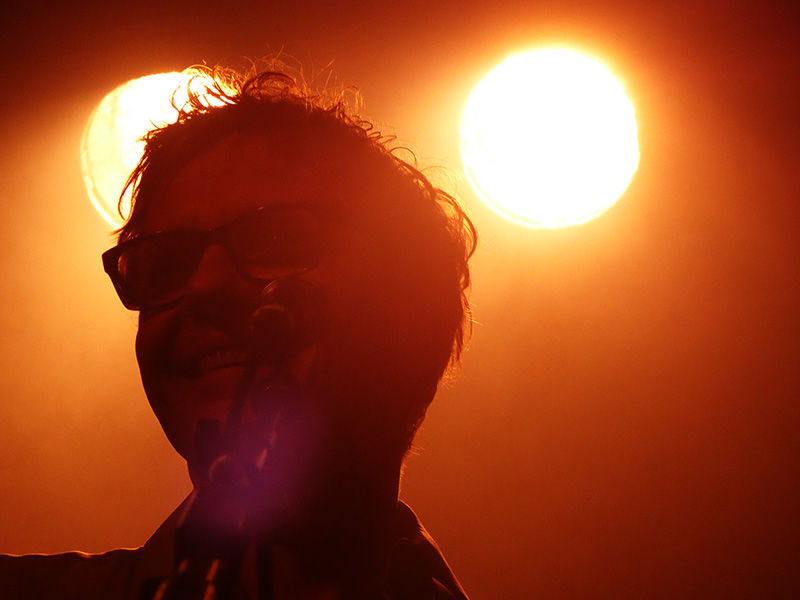 When the alarm clock goes off at five in the morning the idea that was so great when you booked the flight suddenly turns into a really bad idea. Why did I do it? But you can't just let the flight tickets go to waste. Have to go up. Have to. And so we did.
Me and Ulrika went to Spain in April to see Luna play five times. We went to Gijón, Santander, Madrid where they played twice and Barcelona. We loved every second of that trip. And when the band announced a five concert tour in the UK we just had to go. Again. Since I've been to London about seven times and never seen anything else in the country, it was an even better idea to go. And even if UK hasn't got the olives or wine, they've got other attractive things to offer. I'm not really talking about the pubs and the beer even though I love the pubs and the beers.
What I like is the always vibrant music scene. Not the music scene that once was. We know all about that and it's quite boring. It's the music scene that is now that is fascinating. It never stops. Music is not supposed to stop. It's not supposed to get stuck in old manners or habits, you need to look back, but you can't look back all of the time. Music must move forward, and it does.
I like Luna because of what they do now, not because of what they used to do.
It's that moment. When the music surrounds you completely, is all around you, and inside your head and body. Can't stop smiling.
We talked about going to see Luna again if they were to reunite. No matter where they would play, we wanted to go. And we went to Spain. We fell in love all over again with this wonderful band called Luna. I don't know what else to say about them, they're just wonderful. Every single aspect of the band is wonderful. They're the pure definition of what I like about music.

At the moment I listen to jazz almost all the time. I have done so for the last couple of years. And I go to about ten Bob Dylan shows each year. I'm one of those. And when Luna were going to reunite we had to go. We are used to travelling around to see concerts, not just Dylan but we've seen him play in Sweden, Finland, Norway, Germany, Italy, France, England, USA and Japan. To go to Spain to see Luna was just a joy. And we had so much fun. Then we went to the UK. And we had fun all over again.

We got to Brighton and met up with our friend Björn who was also in Brighton to see the show. He lives in Stockholm as well and is probably one of the biggest Lou Reed fans around and also a great guitar player. We used to play together in a band, me, him, Ulrika and our friend Helena who didn't join us this time, but she went with us at ULU ten years ago to see Luna's last European gig. At one point we were called And Suddenly (we had many names, Hotel Electravision was another and for long I didn't remember why we had that name until I read Dean's book, then I remembered where it came from). We recorded a very, very sloppy lo-fi version of Tiger Lily that was released on A Head Full of Wishes compilation CD.
Me, Björn and Ulrika went to a nice restaurant on the Brighton seafront and had a really fresh and delicious flatfish meal. I had sweetbread as starter, usually don't eat that but it was nice as well. Probably thought I was going to get something like pizza but I did not. Then we proceeded to the Brighton pier and jumped into the rollercoaster and we screamed. It was fun. Ulrika didn't want to join but I think she a had laugh by just watching us. We walked back, to the ferris wheel, and went a couple of turns. Steve Coogan was the speaker voice. He is funny. Then we got off the ferris wheel.
We met up with two old Swedish friends that now live in London, Henrik and Sara. I used to play in a band called Twig with Henrik. We travelled and had much fun but then he moved abroad for studies and work and never came back. We all went to a pub on Black Lion Street and went outside in the beer garden at the rear and watched two exuberant very happy dogs. We talked about being as happy as that. This place was pretty much just around the corner from Sticky Mike's Frog Bar where Luna was playing later.


Sticky Mike's is a small club with the stage in the basement. The ceiling is so low you have to bend your head when you walk around if you're not short. We're not exactly short but wanted to be in the very front anyway. We know it can be irritating for people behind us, especially in a place like this, but everyone's got the chance to be there, just be there in time. We loved the place.
We had seen the opening act Flowers five times at his point, since they were opening up for Luna in Spain as well. We fell in love with the band and couldn't wait to hear them play again. And the audience at Sticky Mike's where extremely respectful and quiet, probably enjoying their gig as much as we did. Five or six new songs since Spain which made us happy. Their first album was produced by Bernard Butler. If I remember correctly they're going to record the follow up themselves. Probably a good choice.
They sound fantastic as it is, just as they are. Sam and Jordan backing up Rachel's beautiful voice. It's a well known cross in styles between Phil Spector, Jesus & Mary Chain, Cocteau Twins and all those great music legends in the same spirit. But Flowers still sound entirely unique in their own way. We even got to know them pretty well in Spain and it was nice talking to them again.
We're always a bit nervous when we're about to see Luna play. A bit? Very nervous. We know exactly what will happen. Dean and the others are just going to come up on stage quickly and play their songs. We know that for sure. But at the same time, we don't know at all what's about to happen. What's its going to be like this time. We're nervous.
I'm nervous right now, writing about being nervous. Is that love? It's music that means a lot to us, I know that for sure. Dean wears a blue, white and red striped polo t-shirt and Britta's wearing blue jeans and a black and white striped sweater. Lee and Sean are dressed in black. Dean's looking like a sailor boy on the coast somewhere, just about to jump into the sailing boat, pulling the ropes. And he is. That sound. No one sounds like that but Dean. He's never really plays a solo on his guitar, it's more like a part of the song, always something melodic, never any excesses. It's just melodic perfection yet very intense and big sounding playing on his white Gibson Les Paul. And his playing is rhythmically driving, I like that as much.
Dean's voice is unique as well. Whining, people probably would say, but not in a bad way. It's not whining to me. I think it's more seeking and dreaming and sometimes talking determination of dry abstract findings in the human life. Did I just write that? Looks like it, I know what I mean but I can't put it to words. And the voice. Dean's voice makes me smile, the words makes me smile, not happy words all the time, but they put a smile on my face. With that whining voice of his.
I'm not very good at analysing lyrics, I prefer to just let the words be a part of the sound and the moment. Right now I'm walking around humming something about electronic snicker snack. Mixing it all up and hearing it wrong, I know that, but I can't help it. I think I like doing it too. Your purple mouth says snicker snack. Google the lyrics and it says snicker smack instead. For some it could be I guess. North of north Dakota, to Bobby Peru. What's a billet-doux by the way? A love letter. Cindy tastes of barbecue, is that right, should be really good. You see, I can go to endless Luna shows, I will never get tired of this.
They are on stage in the tiny basement of Sticky Mike's Frog Bar in Brighton and I'm so close to Dean's guitar that I could retune it. The perfect distance. It's always a trade off being so close to the stage. The PA speakers are actually behind you. But sometimes when the stage is really small, you can hear the stage monitors and amps instead. It's almost like being up there on stage. Next to Dean with his striped polo. And on the right, there's Sean. I smile just when I think of him. And Dean is smiling when he's looking at him up there on stage.

Sean says "what?" He says "what? Who?" He's funny without even making an effort. No jokes really, no jokes with a punch line anyway. He just stands there to the right, on Dean's left, and makes people smile. Sean's guitar sound is both the opposite to Dean's but also very similar. It's never about showing off skills. It's always about pushing the music forward, either by beautiful shimmering sounds or intensive rhythm and melodic drive. It's not surprising that Sean has made music for TV and films, just like Dean has. And with his Fender Jazzmaster it is the perfect counterpart to Dean's guitar sound. Did I tell you that he's funny too?
We couldn't be happier after the show. It was of course similar to the shows in Spain, but this was more compact, up front, close. And the music is just more of the same but still not the same. It changes, at least it changes in my head, my ears, it never sounds the same. I'm in a different country, different venue, with other people, in a different mood, but that nervous feeling is the same, that lucky good nervous feeling of excitement and joy. And the songs that wind in all directions in my head. I was happy. Malibu Love Nest is worth a text of its own. It's sheer perfection of a song. With a melody from heaven. A song that changes within itself, in the bathroom on the plane, on the bus and on the train. There's something in the air.
Dean said out mine and Ulrika's names during the show and that we had come all the way from Sweden. He did that in Barcelona as well. It feels a bit embarrassing, we usually hide in the corner if we can, unless we're close to the stage. After the great show we went upstairs to have a beer. Henrik and Sara went back to their hotel, the very nice Grand Brighton Hotel so I guess they wanted to sit on the balcony, and enjoy the view, and that air a little bit.
Me, Björn and Ulrika stayed and we met Joe, an American guy that's been travelling around Europe for six months. A Luna fan as well that also would see more shows on the UK tour. We were talking and I saw the poor bands carrying their heavy equipment up from the basement into their van upstairs. I helped Sean with one small bag for two metres. I got to talk to Britta a little bit, she is a nice girl, always very friendly and nice. The band where driving back to London after the show. Good for them I thought, waking up in the same city where they're about to play next. Me and Ulrika went to have some fish and chips by the beach, sitting on the pebbles and enjoying the nice weather that night, the sky was clear, the moon shines upon us. At least I think it did. It was a good moment. That air.